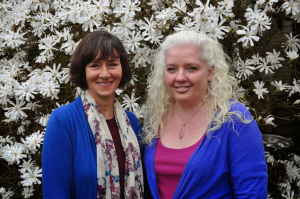 Visit our Facebook!
We are affiliated to The Academy of Systematic Kinesiology (TASK), the first and longest-running school in the UK teaching Systematic Kinesiology.
Our classes are open to all, whether you have any experience or training of any other therapy. We guarantee classes of no more than 14 students on any course which allows us to give you 1:1 support.
Here's a little bit about us:
Kath has been a Kinesiologist since 2004. She initially practiced and taught Touch for Health Kinesiology but felt that she needed to learn more in-depth techniques and retrained in Systematic Kinesiology over a three-year period. Since then her practice has thrived. She also incorporates the correction techniques used in Systematic Kinesiology into her massage routine with amazing results.
Tracey has been in practice as a Homeopath since 2005.  Out of curiosity she attended a two day Kinesiology workshop hosted by a fellow homeopath in 2007 which caught her interest.  After this she spent some time researching the different methods of Kinesiology and discovered Systematic Kinesiology which offered a very thorough, practical and grounded approach that she felt could easily be incorporated into her existing practice giving her an additional diagnostic tool and nutritional focus she felt was missing.  In fact it exceeded her expectations as it was only upon starting her Balanced Health Foundation Course that Tracey realised how comprehensive Systematic Kinesiology was as a therapy in it's own right and quite how much Kinesiology would add not only to her own practice but to any beginner wishing to learn a new therapy or any existing alternative/complementary health therapist.  She then continued with her training over a three year period to enable her to teach Kinesiology.
Both Kath and Tracey are passionate about their Kinesiology and sharing their knowledge with all who wish to learn.